Building Thriving Communities by Controlling Our Own Funding
In this 90-minute webinar, EFOD* leaders Camryn Smith of Communities in Partnership (Durham, NC) and Nicole Anand of Inclusive Action for the City (Los Angeles, CA), in conversation with Mariela Cedeño of Manzanita Capital Collective discuss how Black, Indigenous, and other practitioners of color are working to fill critical funding gaps for under-invested food systems innovators and projects through alternatives to conventional community development finance. A transcript summary of the presentations and Q&A is below.
Despite efforts toward poverty alleviation and social justice, many large institutional CDFIs, credit unions, and foundations often shift resources away from BIPOC-led enterprises and organizations, to less "risky" or more "investment-ready" projects owned by community outsiders. The history, community assets, expertise and lived experience of BIPOC communities are undervalued and undercapitalized. The additional financial hardships created by the pandemic further highlight the need for community-led solutions to capital access.
The EFOD Collaborative exists to challenge these barriers and lead a shift to a community-driven framework for equitable finance. Now is the time for community-based practitioners of color to change the conversation on how private capital can be deployed in ways that really meet the needs of communities.
*Equitable Food Oriented Development (EFOD) is a community-based development strategy centering Black, Indigenous, and People of Color food and agriculture projects and enterprises as vehicles for shared power, cultural expression, and community asset-building. 
Camryn Smith, Communities In Partnership Camryn (pronouns: she/her/hers) is a proud resident of Old East Durham and a community activist & organizer. She has been serving in place-based development work for over 18 years both stateside and abroad. Camryn is a founding member of Communities In Partnership (CIP), a grassroots community organizing and education group based in Old East Durham and serves as the Executive Director. CIP focuses on addressing policy and systemic inequity for communities of color and materially poor people within Durham focusing on social determinants of health, economic development, gentrification, and housing. Camryn has been a member of the EFOD Executive Committee since 2020.
Communities in Partnership (CIP) formed in 2011 in Old East Durham, when a gathering of neighbors decided to take action following a neighborhood shooting involving two children. Frustrated by an inadequate and uninformed response from city officials and other local agencies, CIP was created by longtime neighbors as a vehicle to give voice to local residents and hold officials and agencies accountable. Since then, CIP has developed community-based education processes, and community development initiatives, and organized for and implemented policies that address systemic inequity for communities of color and materially poor peoples within Durham. Read more about CIP here.
Nicole Anand is the Deputy Director at Inclusive Action for the City and as a political economist and participatory designer, she designs and implements civic processes to change the status quo. For over a decade, Nicole directed the strategy, learning and research of international organizations focused on public sector innovation, anti-corruption, and social justice. She is passionate about creating public services that work for people and has partnered with the City of LA Mayor's Office to co-create the city's first open government agenda. Nicole is the co-founder of a global collective for multidisciplinary learners, and an educator in design research. Nicole holds a Masters degree in Development Management from the London School of Economics, and a dual Bachelors degree in Development Studies and Business Administration from the University of California, Berkeley.
Inclusive Action for the City is a community development organization whose mission is to bring people together to build strong, local economies that uplift low-income urban communities through advocacy and transformative economic development initiatives. Inclusive Action has become a leader in the citywide campaign to create a permit system for street vendors; hosted over 7,000 Angelenos in topical events; developed a purchasing cooperative to bring healthy produce to small markets located in "food desert" communities; launched micro-finance programs to support small businesses in low-income neighborhoods with capital and coaching; and advised major cities and organizations on how to engage communities effectively. Read more about Inclusive Action here.
Mariela Cedeño (pronouns: she/her/hers), Manzanita Capital Collective, is the product of her Venezuelan birthplace, El Salvadoran roots, and Bay Area upbringing. For the past 15 years she has cultivated local economies and resilient food systems, and catalyzed new models of investment and economic opportunity that center and uplift BIPOC entrepreneurs, farmers, and community-based organizations. Mariela holds a wide breadth of experience in community rooted economic development, small business advising, alternative capital, financial planning, non-profit management, and much more. Mariela has been the chair of the EFOD Collaborative Investment Committee since 2018.
Manzanita Capital Collective serves as a connector between Indigenous and POC-led food, agriculture, and land justice projects and values-aligned funders and investors. Manzanita advocates for integrated capital investments in rematriation, Indigenous and regenerative land stewardship, and resilient food systems. Read more about Manzanita Captial Collective here.
Trisha Chakrabarti, EFOD Collaborative Trisha (pronouns: she/her/hers) is the National Coordinator of the EFOD Collaborative, working alongside EFOD's Steering Committee of BIPOC-led community-based organizations. She has used her 15 years of experience in community-based development, place-based food systems, and participatory policy advocacy towards racial and class justice. Trisha grew up in the South Asian diaspora and lives in Oakland, CA, on unceded Ohlone land.
EFOD Collaborative is a multiracial coalition of community-anchored food systems practitioners and leaders driving food-oriented development as vehicles for shared power, cultural expression, and community asset-building. Read more about EFOD Collaborative.
Esperanza Pallana is Executive Director of the Food and Farm Communications Fund. Esperanza is a culture change leader working with people, data, strategy, capital and storytelling. Her passions are community centered economic development, equitable and sustainable food systems and racial justice. She has worked with nonprofits for over 20 years with an emphasis in leadership, systemic change, and policy advocacy. She has led several successful campaigns that resulted in institutional change and innovative policy as well as capital/grantmaking programs advancing economic and racial equity. For the past ten years, she has worked to support social justice entrepreneurs and movement leaders in removing policy barriers, consolidating resources and accessing grant and lending capital for their nonprofits and small businesses. In her most recent roles as Director of Strategic Initiatives within a community development financial institution, and as former Executive Director of a municipal food policy council, she managed cross-functional teams for strategic program development and implementation, led place-based initiatives to raise the organization's profile and visibility; and served as a key influencer on a state and national platform while building strategic relationships with agencies and private sector organizations. Additionally, she has led fundraising operations and program development, cultivated political leadership in food policy, and fostered partnerships among a broad network of individuals, organizations, and businesses in both the public and private sectors. Additionally, Esperanza is a Fellow with the Castanea Fellowship. Castanea is a cohort-based leadership training for mid- career food system professionals focused on leadership and change theory to reform the impacts of racism and bias within the food system. More on the Food and Farm Communications Fund.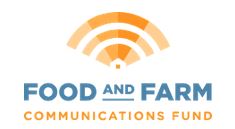 About Food and Farm Communications Fund: 
The Food & Farm Communications Fund (FFCF) is a participatory grantmaking fund that meets a critical need in the field of food system transformation: funding communications strategy and capacity. Our mission is to provide communications funding and resources for grassroots organizations and networks working to uplift frontline narratives, build power, and embolden transformative food and farm systems change.
About Duke World Food Policy Center:
The World Food Policy Center is a research, education, and convening organization within Duke University's Sanford School of Public Policy. Our mission is to advance connected and inclusive food system policy and practice in support of equity and resilience of local/national/global food systems.
Discussion Summary
Trisha Chakrabarti: This 90-minute webinar features leaders from the Equitable Food Oriented Development Collaborative, folks from around the country. We talk about how Black, Indigenous and other community-based practitioners of color are working to fill critical funding gaps for underinvested food systems innovators and projects through alternatives to community development funding and finance. Speakers include:
Camryn Smith of Communities in Partnership,
Nicole Anand of Inclusive Action for the City, and
Mariela Cedeño of Manzanita Capital Collective.
Our guests will discuss what true community-driven funding looks like. You'll learn more about the EFOD framework, our criteria and what we are doing to deploy critical funding to EFOD organizations around the country and how that is challenging systemic barriers in financing to lead to true systems change where communities are empowered to control their own destinies through community-controlled finance.
Monica Cadena:  We are really excited to be having this potent conversation. A little bit about the why. In the midst of the COVID-19 public health crisis, we have witnessed the disparities in inequities inherent to the current food system with consequences aggravated by chronic disease more prevalent among low income communities of color. Low wage service and food workers have been severely endangered both physically and economically. Businesses owned by BIPOC business owners have had limited access to government relief and lending programs and are more likely to close permanently at higher rates than white-owned businesses. In spite of such challenges, food enterprises and community organizing activities that are hardest hit in the pandemic tare also the greatest strengths of recovery, rebuilding our communities so they're stronger than ever before. Over the last several years, the EFOD Collaborative has worked to drive resources to organizations that not only provide essential healthy food to their communities, but do so with authentic local relationships and existing infrastructural networks. EFOD organizations act directly to provide accessible and healthy food for children and families in need, ensure that small food enterprises in their neighborhoods are supported and work in collaboration to build the structures and systems to support future equity and vitality in low income communities of color. Today you'll be hearing from some of the members of the EFOD Collaborative on how we are building alternative solutions for the future resilience of our vibrant communities, this being the result of decades of work by community-based food systems practitioners realizing what wasn't working for us. EFOD is a synthesis of lessons learned from navigating systemic barriers to accessing capital to resource our communities. I would like for us to take a moment to acknowledge the legacies and wisdom of those who came before us and continue to guide us in this critical work.
Trisha: So let me begin by sharing a little bit about what EFOD is and how we got here. EFOD is a movement and a coalition of organizations led by practitioners on the ground in their own communities. This is a story of a continuously emergent coalition where a small group of like-minded folks really started coming together in the early 2010s, because they were frustrated and wanted to change things in the systems that they interacted with. Their shared feelings of anger at the glaring, ongoing, and multiple disparities in the allocation of resources underpinned a commitment to change. These were folks like Neelam Sharma from Community Services Unlimited in South Central LA, Dana Harvey, from Mandela Partners in Oakland, Malik Yakini from the Detroit Black Community Food Security Network, and D'Artagnan Scorza from the Social Justice Learning Institute in LA. And they came together over years seeing investments in projects in their communities like big box grocery stores, community gardens or nutrition education, investments that dominated the discourse around food justice. But justice is more than just education or food access. And these kinds of commercial projects or investments often disappeared as soon as the funding ended or their tax breaks sun set. They not only left no long-term benefits for the community, but they often contributed to land loss, gentrification, and the displacement of long-term community members. In contrast, though, the work of their organizations, the work that eventually became what we identify as EFOD shared a common goal, elevating cultural assets and cultivating enterprises owned by community members, the long-term development of community member leadership and neighborhood collaboration.
So they started coming together over the years to brainstorm a framework and a narrative of community ownership and self-determination. And over many years of crunching over the last four, five, six years that we have really kind of formalized as a collaborative, we have come up with this definition. It was really important for us as a group of practitioners to create our definition, because we didn't want the way we identified our work to be co-opted by many of the language and the ways that our systems operate in conventional funding and finance. We have seen that happen time and again. So this definition was the result of a lot of collective crunching, wanting not only to identify our work as unique, but also preserve the way that we talk about it.
EFOD is a development strategy that uses the food and agriculture systems, but is really focused on building community power, community resilience, preserving cultural identity and creating economic opportunity. It is led and owned by and decisions are made by people, working class people of color from our communities. It is important that we have this definition to really ground ourselves. The reason we do this, the reason we come together is because as we all know, the wealth of this country and the capitalist system of extraction in this country has been built on the labor and lands that was stolen from Black, Indigenous, and other people of color in this country. When we talk about equity and justice, we talk about controlling that land, that labor, our own communities for ourselves.
So what are the necessary characteristics of EFOD as a practice? We wanted to come together and really identify those key characteristics. What makes an EFOD aligned initiative or organization versus one that is not. As a collaborative over many months, when we first started coming together, we agreed on these five criteria as necessary in order for something to fit within our framework. EFOD is community-based food systems work done through the lens of equity and justice with a real attention to the history of that community. It is based in a specific community and culture. It prioritizes community leadership development and ownership of decision making. Oftentimes what we see in non-EFOD work is that there may be a community advisory board or there is some structure that is set up, but that really has no teeth or decision-making authority. EFOD organizations are really led by and the decision-making power rests within our communities. Then of course, the final criteria is that EFOD organizations are focused on market-based strategies that create long-term assets for our communities.
As you'll hear from the amazing leaders today, each EFOD organization is not just superficially located in their neighborhood, but they're really rooted there and with deep connections and relationships built over many, many years. When you're there on evenings, weekends, early mornings, and you see just how important it is for neighbors in your community to have access to family-supporting wages, jobs with dignity, business opportunities in their own community. You know that while many of us come from the orientation of recognizing deep flaws within capitalism, that we need to create opportunities within our communities for the people we love. These are at the core of what makes an EFOD organization and also what really defines our investment criteria, which again, you'll hear about as well.
So what does EFOD look like on the ground? We are really talking about deep systems change and long-term asset development in communities. I want to share a little story about one of those founding EFOD organizations, Community Services Unlimited. They have been a steady and accountable presence in South Central LA since 1977. It was founded by the local chapter of the Black Panther Party and really started as providing necessary and needed education and community building work. In the summer of 2015, CSU had the opportunity to direct development in their community. The Paul Robeson Center, a 5,000-square foot building in their neighborhood, was listed for sale. The organization jumped at the opportunity of course, of course they would. However, when it came time to seek financing for major renovations for this space, CSU had difficulty finding lenders, even mission-driven ones who would provide the money. Despite their generations of history and deep relationships in the community, it still took them over two years to line up financing from at least four different sources, including credit enhancements and a loan guarantee. Today when you visit the Paul Robeson Center in the Village Marketplace, it is a permanent healthy food market and cafe, a commercial kitchen where they are incubating small food vendors, space for CSU Youth Internship and community programming, spaces for rent and CSU staff to be headquartered, but it is also a place that is preserving the community's identity. It is a long-term community asset that is now owned locally and is really spurring a whole neighborhood-wide led process for community-owned and led development that wouldn't have been possible without this first investment by CSU. And I just want to share that these are the kinds of impacts of EFOD organizations and projects and what are too often overlooked by our current systems.
The last thing I want to share with you today is who are the incredible leaders and the folks that make up the EFOD collaborative. When we first started doing some research about four years ago, we identified over 90 organizations around the country that met those five criteria. As we have slowly been building our capacity and our vision as a collaborative, we have really wanted to connect more and more with organizations, maybe some of you who are on this call today. The Steering Committee of the EFOD collaborative, represented here by three folks as well, have been leading the vision and the work of the collaborative since 2018 when we kind of first formalized, but we have also made a couple of rounds of investments in other EFOD organizations as well, and you'll learn a little bit more about that. I just want to encourage you all to think about how you might want to be involved in this movement as well. Whether you're an EFOD organization, a funder, or an ally, there is a need for all of us to come together to support these incredible organizations. Their work has a ripple effect in your community.
Mariela Cedeño: I have been lucky enough to be part of the EFOD Collaborative since its inception, and I wanted to share a little bit about where the EFOD funds specifically came from and why we are centering this work. So I share this quote because I think it also is a good underpinning of the landscape of philanthropy and investment that EFOD orgs navigate, which is that the people who cash the checks tend to look a lot like the people who write them. In the United States, that means that 87% of the wealth is owned by primarily white millionaires, billionaires. We see that same demographic reflected in foundations and investor circles who are making decisions around how resources are allocated in our communities. In addition to that shared wealth was built off of our communities.
So when we look at spaces where there are resources to resource OUR work, we are looking at a space that centers this ideal of wealth creation that does not resonate with EFOD principles, and that also puts those wealth creators as decision makers. I like to share this because that is the ethos that is central to a lot of the philanthropic practices and socially-minded investment practices that we have to navigate. So a little bit about the system that we are in. And again, centering the fact that the system wasn't built for us. So a few things that Trisha shared. EFOD doesn't look like conventional food. We are looking at a framework that has a food lens, but also is much bigger than food. We are looking at things like real estate, land ownership, health, power-building, farmers. Often what that means is that the kind of funding that EFOD orgs need is a mix of two different ecosystems. One which does fit into more non-profit programming, but the other that fits within wealth-building initiatives that are not in the system that investors are used to investing in. We are talking about non-extractive businesses, enterprises, social enterprises that may also require funding to support things like organizing and community power-building.
The other kind of centering I wanted to share with folks is that, which maybe obvious, but just to name it, is that there is an imbalance of power between wealth holders and community leaders. So when we enter these spaces, we are coming as asking for resources that came from our own communities and that belong to our communities, but often we don't have power in how those resources are allocated. And then, obvious and comes up a lot in our own conversations around location and geography and placement of our EFOD organizations is that access to resources is often determined by your proximity to resources. And by proximity, I don't just mean physical proximity, but also how you're able to navigate spaces that often don't quite fit us or make sense to us.
And the last thing that I did want to elevate also is who's making decisions around resource allocation. So often, we are working with potentially program officers or loan committees or different players within an ecosystem that don't have lived or even work experience in our communities and in the kind of work that we are doing. We have folks who are maybe prioritizing things that make sense to them, but don't make sense to us. Often that is things like financial banking structural impact metric expertise over our own community assets, knowledge and culture. Within that context, I have seen more and more folks wanting people of color, Black, Indigenous and POC leaders to be at the table, but often that leadership is seen as an advisor or maybe just a deal pipeline maker rather than a real decision maker. And so the space that we are navigating is a space that has a pretty intense power dynamic and one that was not built for us.
Then, when we get into the system finally, we are navigating a system that really works to maintain the status quo. So we have processes that are often alienating. And what I mean by that is that maybe it is language that is not language of our own. We are also having to continuously prove ourselves as leaders. The system that uses standards that promote kind of this capitalist system that is gotten us into the place that we are in right now rather than reflective of our own work. I always use this example for myself, but many, many years ago we were working on a grocery store project. And the person who was underwriting a possible investment opportunity in that I asked them what standard they were using, because they kept coming back to us about our finances and revenue per square foot. And this is a community grocery store and the standard they were using were things like Walmarts and Safeway just as an example.
The other piece too that we often navigate is an undervaluing of our lived experiences, our own community organizing, and an overvaluing of professionalization. So this expectation that the way that you can make these things work is by bringing in an outside consultant, by investing a lot of money in market studies that minimize our own community, know-how of our gaps and needs. And then moving into the ecosystem of cash and some of the more technical practices. There are often unrealistic expectations of how much cash on hand EFOD projects should have. Especially when we are talking about disinvested communities or we are required to put more into the project as kind of a collateral or a guarantee. This is because there is a perceived risk that they're trying to modify by having us put kind of more skin in the game financially. And then of course that often in the investor space, we are asked or forced, I should say, to collateralize really important community assets. And often when things need to change or there's something where there's a dissonance between the investor and ourselves, that asset, because it is so important to us, is used as a lever to try to move things in ways, move our work in directions that don't fit our own standards and our own EFOD criteria.
The last piece that I also wanted to share around practices is that this ecosystem often does not look to us as the beneficiaries. What that means is that we get terms that support the preservation of capital by wealth holders instead of our own projects and needs. It also means that we are often left to kind of, we don't have a lot of options, and so the rates that we get are extracted from community wealth building rather than adding to community wealth building. And the last piece, which I think really sits within the space of not trusting our work is that often we get just enough money to fail. So we get a loan, we ask for $100,000, we get $25,000. We ask for program funding, and we get just the physical asset funding. And so it is always this kind of leverage around trust and knowing our own projects that we are trying to navigate and balance with the actual resources required to make these projects happen.
One final thing I wanted to share around why conventional capital typically doesn't work for EFOD projects is this idea of metrics that don't reflect our work. This shows up in a few ways. One is institutions love to standardize metrics and create metrics that are based on their values, their ideas of success. Which means that we are not the ones creating our own metrics, and also that in the standardization of things that are just quantitative, it dismisses a lot of the unique opportunities in communities and specific projects and specific place-based priorities. I think within this ecosystem too, we often find that we are expected to do a lot with very little. There is an unrealistic scale of what we can do with the funds that we do receive when we do receive them. Or on the other end, there's a push for an unwanted scale, again, within this kind of American capitalist ideal that bigger, better, more, more profits, which is not always what we want to do, right? We are doing place-based community work that is reflective of our communities. Which means that we are building businesses that don't look like conventional businesses, not just because of scale, though some folks may want to scale, but also because organizing and community building and leadership development are central to this work. Those are not things that you can attribute the same kind of return that typically a business that focuses just on making money would be able to qualify. There's often a difference in what we are expecting. For us, for EFOD organizations, we are looking at building community resilience and alternative economic systems, which means that we are deeply rooted and deeply invested in our own neighborhoods that we know that that means that requires long-term organizing. It requires leadership building, and it requires a constant investment in those things. And that may not fit a grant or investment timeline. And as I said, may not be easy to reflect in numbers.
So I share all this to kind of position the space that we as EFOD organizations have to navigate, share a little bit about the technical pieces that often feel incompatible with our work and also share why, eventually, we launched the EFOD Fund, which I'll tell you a little bit more about later.
Camryn Smith: Communities in Partnership is actually on unceded, I want to give the acknowledgement as well. Do not want to forgive that on unceded territory of the Occaneechi Band of the Saponi Nation as well as the Eno and Tuscarora folks. We just really are so grateful for the sacrifice that our First Nations brothers and sisters continuously give over and over again in light of this system that we have created that is so highly extractive.
Communities in Partnership was founded in Durham, specifically Northeast Central Durham. We are a majority Black and a majority woman-led and founded organization. So what does that mean in terms of the community development lens? All of us who have founded the organization live in the community that we serve, which is in Northeast Central Durham, which for most people that are familiar with The Triangle, my neighborhood is probably the neighborhood that they tell you to avoid the most out of all the neighborhoods in the Triangle. Durham is the Blackest city in the Triangle. Right now we have been going for probably for the past four to five years specifically, maybe even a little longer, a redevelopment or redevelopment process that has been highly extractive and even further divestment of communities that have been historically divested from. So now we are looking at in Durham the largest, potentially largest, and I think I can safely say the largest wholesale displacement of working class and working poor Black and Brown people in the history of Durham right now.
The work that we are doing in our community is holistic in its nature. We were founded by people directly impacted. We are accountable to people that are directly impacted. And so our work, the largest breadth of our work is in food systems work, looking at liberative structures that are owned and operated and accountable to directly impacted folk. But we also look at food systems work in a much more holistic way, because we have been directly impacted ourselves. So we know that we can't silo these different areas of work that a lot of community-based organizations. And even using terminology, we believe that using language is so important, because it gives people power, not only power to remind oneself who they are, but also the work that we are doing and to differentiate oneself. Part of the language that we have created from Communities in Partnership is calling organizations like our organization and Mariela and Nicole and Trisha and other EFOD organizations, we refer to them as community-rooted organizations, because we are rooted in our context. We are accountable. We are created by people that have been directly impacted. We not only infuse a class, but also a racial analysis in the work that we do.
With that being said, the work that we are focusing on: we started off with activism and organizing from an anti-racism lens. We moved into housing because we had a huge deficit of housing in our community that was affordable and safe and clean and dignified for people to live in. The largest breadth of our work, as I said, is our food systems work, which we create in our own food co-op. Because we had dramatic food sovereignty issues, especially beginning with the legislature turning over to be controlled by the Tea Party and the restrictive, the restrictions that they placed in terms of rolling back a lot of benefits like food subsidies and things for people that were working poor as well as looking at market strategies. We have our own BIPOC farmer's network that we have created as well as East Durham Farmer's Market which sells fresh and local produce and food items that are produced by Black and Indigenous, primarily, farmers and food-based entrepreneurs. As well as opening up our own storefront in our community coming soon, and also entrepreneurship programs like the Culinary Femme Collective that focus on Black and Indigenous and Latinx food-based women and femme-identifying entrepreneurs that do not want their food-based strategies and their businesses predicated on plantation capitalism. Those are the types of initiatives that we have created.
What has been kind of a roadblock for us is because at the end of the day, this system is not very appreciative unless you're trying to recreate the highly extractive processes in your own community. We have nothing else to give. How can I sit up here and incorporate the same type of logic or the same type of policies as I'm being stewarded with funding that I'm being able to receive and turn back around and do the same thing to my people that has been done to us hundreds of years. I think we come at this work oftentimes, especially those in power with an idea we want to do good, but we do not how to operationalize true equity or even liberated practices and frameworks. All of us sitting on this call that are involved in EFOD come from people who have been historically and intentionally divested from and impacted, and oftentimes through that also have had systemic violence committed against our people. We do not have inherited wealth. When we have been interacting with the banking system, specifically, the community development financial institutions, we have had the same roadblocks or even worse than you would find in regular commercial business lending practices such as with the giants like Wells Fargo or Bank of America. It is very extractive when you go into spaces and you're charged one to two or 3% higher than the market interest rate that you could get for a loan. It is very extractive when the due diligence process is two to three times harder than if you walked in to Chase Bank and applied for a loan. In addition to that, the biggest series of questions that I have is if a lot of the money is being given to these CDFIs on behalf of Black and Brown people, a lot of the CDFIs are run by people who have benefited from institutional systemic racism. The policies they have created are mirroring the same policies that have been divesting from our communities, who have put up roadblocks to us being able to receive the funds that we need. Why are we giving them these funds that they don't have to pay back? If they're in grants or some type of low interest or no interest loans, why can't they just actually circumvent the intermediary, go straight to the communities that are actually doing the work and give us the money directly to do our own work in our own communities? That is my question.
We are very capable and confident of taking care of ourselves. We are very capable and confident in actually listening to our people in our communities. All of us have the trust of the people in our communities who are directly impacted. And when I made the statement back during COVID, because we have a relationship with one of the largest CFIs in the nation, when I made a statement during COVID that I was not going to evict people during COVID because of a failure to pay, I was met with me being told that I was an irresponsible landlord. So either I'm going to be who I say I am or I'm going to engage in highly oppressive plantation politic economic policies, which that is not what CIP is about. We are not about throwing people in the streets during a pandemic, especially people who have no connection, some of which were undocumented brothers and sisters. That is not what CIP is about. And so I want to challenge us to think of another framework as we are listening both to Mariela and to Nicole about we really are coming at a crossroads in so many ways in this nation right now.
I think this last Tuesday some of us are having a sigh of relief and some of us are still crying a little bit depending upon what state you're in I have a feeling. So, we really need to start educating ourselves and asking ourselves, do we have the depth? Do we have the bravery and the ability to be who we say we are? I come from formerly enslaved African people. My people are at the overall cumulative wealth in Durham per Dr. Henry McKoy's data. I challenge you to look up his work that he's been doing. Dr. Henry McKoy at North Carolina Central University School of Business, also a Harvard fellow. We are at the overall cumulative wealth in Black Durham, which was known for Black Wall Street during Jim Crow as Black people had the overall cumulative wealth during the emancipation from slavery. In 2022, we are regressing dramatically. My challenge is for us to actually look at what we are doing because obviously what we are doing, who we are giving money to and who we are funding and who we are trusting is not working. It is definitely not working for Black and Brown people. We are the ones that have to bury people too soon. We are the ones that have to find housing. We are the ones that have to scramble to help people who've had their electricity cut off, whose children have been doing homework by flashlights and candles for weeks, how to get their electricity cut on. We are the ones having to deal with the mental health crises that all of this brings about. We need to find a better way, and it is not doing the same thing and believing in the same systems and not trusting Black and Brown people. We have to be who we say we are. We have to do something very different.
Nicole Anand: I serve as Deputy Director of Inclusive Action for this city and we are a proud EFOD member and Steering Committee member. I'm excited to share a little bit about what Inclusive Action does, and really what I'll be sharing is how we are addressing some of the problems that Mariela actually laid out. Inclusive Action, we are a nonprofit. We are a community development financial institution, and we seek economic justice. We are serving Los Angeles County, but we also influence at the state and national level. Many people know us, I think, for our origin story. That story goes a little bit like this. It kind of gets back to what Mariela and Camryn were talking about about how systems are designed to lock certain people in and certain people out, right? So about a decade ago in Los Angeles, we were looking around and seeing that our neighbors were trying to be entrepreneurial, were entrepreneurs, and it was considered a criminal act. That criminal act was street vending. We fought for about a decade, and in 2018 we co-led a coalition that decriminalized and legalized street vending in Los Angeles. So where we started was as policy advocates, right? We knew that these systems are massively dysfunctional and that we needed long-term lasting change. But what was interesting in the process is that we started to understand that even that was insufficient, because street vendors were coming to us and saying, "Okay, this is wonderful. This is a big change, but now I need to purchase my cart and how do I do that?" That was really the birth of our access to capital programs at Inclusive Action.
In 2020, we got our certification to be a CDFI. We are a young CDFI, but our lending has quadrupled in the last two years. We have kind of paired policy advocacy with our lending. These problems that we have seen in the past, but also where we are headed as an organization, because we are continuing to see other problems, right? Seeing how people have agency, but needing to turn that into power, right? Needing to advocate for various structural changes. We knew that people needed immediate access to capital, and so we have a microloan program, a little bit about that. We consider ourselves unique lenders, right? We focus on BIPOC entrepreneurs, low income, many immigrants, many are undocumented. We lend with something we call character-based lending. We are looking at the human behind the business. We are looking at the person, we are looking at their family. We are looking at their personal finances. We are not asking for things like social security number. We are looking at the payments that they have made that they've diligently made over the past few months.
So as a lender and as a policy advocate, we also were seeing other things in our community, right? Camryn talked a little bit about displacement, and that is one of the big challenges we have been seeing is that we are dealing with massive gentrification in Los Angeles. People are losing their homes, but guess what? Neighborhoods are changing when people are losing their commercial spaces as well. One of our focal areas going forward is integrating different types of capital models. We started with debt capital. We are moving into physical capital, looking to get Black and Brown local entrepreneurs to own their commercial spaces. We are looking to integrate social capital. We work with so many street vendors. Our clients come into our office and are with us all the time. Often they feel powerless. So how are we working to pair them up to facilitate mentoring, to get them to come with us to Sacramento, to talk to legislators to change laws. These are kind of the three areas that Inclusive Action is working on. I just kind of want to move forward into what this actually looks like with clients that we serve. I'm just going to go into two examples, and I want to also take us into food systems. Food entrepreneurs, that is what we are here for.
Inclusive Action serves food entrepreneurs as well as many other types of entrepreneurs, but the two that I wanted to share today are food entrepreneurs. And I really just wanted to give you an idea of, it is one thing to talk about the problems that kind of at that macro level. Sometimes it feels abstract, but here is where we really kind of ground truth this and say, "Okay, how have people actually benefited from what we are doing at Inclusive Action, from what our partners are doing and so on?" So I want to introduce you to Sue Ellen Mancini. Sue Ellen and I actually had the, I mean, we got lucky to spend time together shooting kind of a story of her story with Refinery 29 and Vice Media. Sue Ellen just a bit ago earlier this year came to Inclusive Action looking for capital, looking for a loan. She was able to receive $15,000 for equipment and inventory, and really what Sue Ellen did with this is she took her company Sad Girl Creamery from kind of at the home to a commercial kitchen. Her ice cream is incredibly delicious. It is culturally inspired. It is really unique. And through this microloan, she was able to move into this commercial kitchen, increase her inventory. Now she's working with our technical assistants on creating a robust business plan and a growth plan.
I want to end with talking about one more client, one more from a different angle, a little bit of a different story. As I started out saying, we started as a policy advocate. Marcel Douglas is a street vendor. She's part of the Leimert Park Street vendors. She's Jamaican by background and she sells Jamaican food. Marcel has yet to get a microloan with us, but is seeking one and we are actively looking to give her one. But Marcel has been working with us this whole year on something really, really amazing. She has been an advocate for street food vending and has been a leader in really the heart and soul along with other food vendors of the California Street Vendor Campaign and the advocacy for Senate Bill 972, which just passed into law a few months ago. Marcel was with us going to Sacramento. Marcel has been amazing in this movement. SB972 is changing the California food industry. Really it is set up to modernize the California retail food code and really give street food vendors the pathways that they deserve to get food permits, which has been an extreme difficulty in the past. So it is a really, really amazing time. SB972 is now law. We are in the midst of some huge structural changes in the food industry in California, and it is thanks to folks like Marcel. That is really it for me today. I just wanted to share a little bit. Very happy to take questions, talk more about our work or our partner's work. Thank you again.
Mariela: I think part of the context that we have shared so far has been what doesn't work for us, the ecosystem that we are trying to step away from and some examples around what that looks like. And so, where this work has been bubbling for a long time within the EFOD Collaborative. We spent the first few years talking about how do we move, how do we move CDFIs? How do we move investors so that we are more investible or that they better understand our work? Honestly, after many years of doing that, we came to a place where we really had to model what we wanted to have for ourselves. The EFOD Fund really grew out of a need to have something different. As Camryn said, we couldn't continue to do something that was an ecosystem that isn't for us. It just was not happening frankly. And I have faith that this model will help move people towards it, but just to share a little bit about the EFOD Fund.
I think one of the really core tenets of the EFOD Fund is shifting not just capital, but shifting power. For us, that means collaborative governance. So some of the tenants of how we got to the EFOD Fund was that it was created by frontline leaders. It is created by the folks who you're hearing talk now, and a bunch of other folks and allies who understand this work. Who come from the communities we are looking to serve, and who also intrinsically believe, as I said, that we can't just look at access and try to access things external to us that don't work for us. That we are looking at actual shifting power and decision making and having us be central in how we allocate resources.
I think what's underlying all of this as well is that we are accountable to the community that we serve. A lot of the entities that we have to interact with like aren't. There isn't a lot of transparency into that, but we as individual leaders within our work have to be accountable to the folks that we serve. Otherwise it doesn't make sense to do this work. And I think this has been a tenant of the EFOD Fund is that if we can't make it look and serve, look like we want it to and serve what we want it to, then we shouldn't be doing it, right? And then I think beyond the collaborative governance, which is a big part of our fund, we are also looking at how do we build more equitable and non-extract financial models and financing options. And so what that means is that our process, and I'll share more about the way that resources go out after, but our process is reflective of the needs of EFOD organizations, which means that by nature that we do some kind of conventional due diligence, but not really. We are really looking at centering the assets and relationships and impacts that EFOD orgs make.
And also we are looking to ask ourselves like, "Are we doing what we are intended to do, right? So when we are looking at metrics and impacts, we are not just looking at metrics and impacts of the EFOD orgs, we are looking internally to ourselves and our fund. Another piece that I think really is different about the EFOD Fund is that we are also centering networks and relationships. It is not like we have deployed money and now we are done that this is part of a bigger ecosystem and a broader community of practice. What that functionally looks like is that we focus on relevant and peer-based technical assistance. I shared earlier kind of this philanthropy or investment world that over professionalizes what our needs are or tells us what our needs are in spaces. We are really looking to EFOD orgs to have them tell us what they need to be successful in what they're doing. Because we are coming in with the assumption that if they fit our criteria and they're doing the work on the ground, that they can also tell us what it is that they need.
And then we are also doing the work if those needs cannot be met within their own networks, is leveraging the larger EFOD network to meet those needs. I think another big part of this relationship building is that we are looking at building a community of practice in itself for EFOD organizations that are emergent and those that are established as well. What that means is that when we see themes coming up in our work, we either share frustrations or just share knowledge wants, that we can center that within ourselves and start having conversations and shared learning experiences and site visits and things that help us build a broader network beyond what we might have. The last piece that I wanted to share about the EFOD Fund is that it is meant to be a fund that centers learning through action. And what that means is that we are looking at this as a constant space of piloting, learning, and iterating, because again, if we are not meeting the needs of the folks that we are there to serve, then we are not doing ourselves a service. Right now, for example, for our first loan pilot, we have done a lot of the intentionality around surveys has not been surveys of the organization, but questions around ourselves. Like what was the process like? Did you feel like you had agency in it? Did your needs get met? Was the timing correct? Like these kinds of things. And then having that be a constant part so that we are revisiting how we are doing things.
I also wanted to mention maybe that is in the kind of equity and non-extractive piece is that beyond kind of just the philosophy of meeting the needs of EFOD organizations, we are actually setting terms on the investment side to meet the needs of EFOD organizations. So what does the EFOD Fund look like? Our first pilot of redistribution of capital in this collaborative governance process came out via grants. And so that grant process, the things that we are looking at was alignment with the EFOD criteria. We wanted the EFOD grants to be catalytic, but they could be used for multiple things based on EFOD org's needs, organizational needs, pre-development needs, project needs. As I shared, the EFOD Fund is stewarded, but to be explicit is that the EFOD Fund is stewarded by a community investment committee, which is a subcommittee of the larger EFOD Collaborative. The process of looking of inviting people and looking at the applications and providing technical assistance is stewarded by that entire committee. And as I said, again, we are looking at a fund that is not static, that is intentional about reflecting and iterating. The next part of our fund is technical assistance. So this means like real dollars to support the needs of organizations. These needs are varied. For some folks that might mean building capacity for fundraising, technical things like bookkeeping or a legal agreement that they need some support in. Or it might be broader, kind of more systemic things around like how do you get a food product into market, looking at different models for grocery, thinking about shared opportunities of different kinds of farmers.
I think the piece that we always like to bring into this space is that we are not kind of pulling a consultant out of the air that tells us that they professionally have a lot of skills in whatever space that we are looking at. We are really intentional about looking to our peers and our networks, because we think that a really important part of having it be a relationship of assistance and a relationship of shared learning is that it is centered on cultural and community competence. That actually, I think is a harder learning skill than some of the skills that we are looking to bring into the EFOD Fund.
The newest part of the EFOD Fund and kind of this integrated capital package is lending. So like lending is not our ideal, but it is a tool for a lot of us. We are trying to pilot knowing that debt is not an ideal vehicle, what could be the most, our version of non-extraction that helps folks bridge towards resources. What that means for us functionally is that we are piloting 0% unsecured loans. So 0% because, again, there is not more to extract from our communities and there's definitely not more to extract from the food system, Unsecured, because we don't want organizations to collateralize important community assets in order to quote-unquote like "de-risk" paying us back. We are looking at supportive underwriting that looks more like coaching that meets folks where they're at. We are also really mindful to think about assets that the organizations bring to the table differently. Which means that we are looking at things like how community thinks of them and what kind of systems do they have for accountability. What their networks of support are, what actual long-term building within this resource that they're looking to allocate this loan to looks like for their organization or their project or their community. We are looking at terms set by EFOD partners. Like obviously, the money that we have in the fund has like some constraints. But what that means for us is that like we are looking to talk to EFOD organizations, like once we looked at the financials of the project or the needs of the project to have with them tell us like on what terms they want to repay us back. Like what makes sense for them in this, like how is it actually structured in the way that supports the project instead of extracts from it. And then the last piece I would share is that we are very comfortable with being the first money in which is often a space that we have a lot of challenges around is that folks don't want to be the first money into a project. They want to kind of come in when the project feels safe. And so the EFOD Fund was set up to be a lever for folks to access other resources.
Trisha: And I just want to reiterate that this is just one example of a community controlled and led fund. The EFOD Collaborative is in community with other community-controlled funds around the country that are led by decision making, is led by assessment, is led by folks who are going to be benefiting from those funds and who are practitioners on the ground. I just want to, again, state that we are just one, but there's a growing ecosystem of community-controlled funds that we are a part of. And before we kind of transition to the audience Q&A, I did want to just take a moment for the three of you that have shared with us the incredible work of your organizations and the work that you're doing within the collaborative, what would maybe be one takeaway you would want folks to take from today's conversation?
Camryn: One of the things that I, that we as EFOD are growing in, and I know that CIP has been trying to bring to the table anytime that we are in spaces with power with people who have access, resources, and power and are being brought to the table - we have created kind of a decision-making mechanism that we do not go into relationships where power is not being transferred. We don't have the time. We don't have the resources or the energy, and my people definitely do not have quote-unquote "the ability to suffer and hold on anymore and to wait." I'm very clear about that. That is one of the takeaways and making sure we are being who we say we are. I saw in the Q&A, someone was talking about how do you deal with BIPOC organizations that are basically recreating white supremacist structures and frameworks in their own organizations, especially when they're trying to use language and ideologies that are connected to not just equitable processes, but liberated processes. As a person of color, in my community we are very clear. We lovingly call that out depending on the relationship, and we want to challenge people, want to give people opportunities, opportunities to learn because sometimes people just don't know that there's another way, helping people to see and to lead them to other opportunities. If they still refuse to see, then the organization like CIP, we make calculated decisions about how we are going to be in space with people or if we are not going to be in space with people. We don't believe necessarily in throwing people away, but we also cannot align ourselves and be a part of systems that just replicate the same oppressive practices over and over again. So that is something we can't, I don't care if it is, because you don't have to be white to operationalize white supremacy. White supremacy is how you look at power and how you make decision making that influences power and how you distribute it. It is based upon that and that is what we use as a mechanism and a tool to judge what we are going to do.
Nicole: I will come back to something that Mariela said in the very beginning, which is oftentimes community-based organizations like us are given just enough funding or resources to fail. Just enough to fail. I think like, if folks were listening to what I was presenting, it should be very clear that all of us here can think and act boldly and in big ambitious ways. We don't see one silo. We are working on systems change. And we do see how the parts fit together. I think there was a question in the chat about the pairing of policy advocacy with lending. That is just one example. That is just one example of saying we do both, like one alone might be insufficient. We can do, we can do a few interconnected things. I just want to say that is often community-based organizations are perceived to be small, perceived to be disorganized, perceived to be chaotic, and only able to take on one thing. That is really not true. In fact, we are so well-connected in community that we are extremely powerful. We can be ambitious and bold.
Mariela: I think where I'll start is I think we often get stuck in conversations about like what's not working for us. There's a lot that is not working for us. I want to encourage folks to kind of step into your power to build the thing that does work for you. And I share this as somebody who often struggles with kind of a scarcity mentality of like, will there be resources for this? Like, will folks kind of step into this space? But the EFOD Collaborative started as conversations, and here we are now with the Steering Committee and a fund and all these things. That is one piece I wanted to share. I think the other piece I wanted to share too is we are part of a larger movement of folks. We are learning a lot from other people who are learning lessons faster or doing things differently than we are. We do not see the EFOD Fund as the solution to everything. This is an example of how something can be done differently within a larger ecosystem including the kind of work that Nicole and Inclusive Action has uplifted. We are in community practice with Black Farmer Fund. We hear a lot of things about other folks who are trying to do things that are just outside of the ecosystem that isn't working for us. So I also want to kind of uplift that, because we don't know yet what we don't know.
And we need to allow ourselves to be okay with failure, to be okay with iteration and to stop coming at this as like, this is the only solution and it is already set and ready. And I'm getting at this because often one of the questions we get is like, "Do you have expectations around loss or repayment," or blah blah, blah. And the thing is like, that is kind of not, it is not the frame that we are coming into this with. We are coming into this as testing something different that works for EFOD organizations. And again, knowing that these are imperfect tools, like grant applications are imperfect, debt vehicles are imperfect, structures are imperfect. This is a pilot of something different, something new that actually is for us and by us. And then the last piece I also wanted to share that is maybe just to, I hear Lorena Andrade from La Mujer Obrera always in my head who's one of our Steering Committee members, is that EFOD organizations, even when we are working at wealth-building initiatives, don't look like your conventional capitalist business, and it shouldn't look like that. We can't just think about it from like a traditional P&L and making money and all these things. We also have to think about all the other resources that are required to really build community to really organize and to really build power. And so I just want to make sure to say that explicitly that when we are talking about this mix of programmatic and wealth-building ventures, those wealth-building ventures are not separate from the programmatic work. They're not separate from community building. They're not separate from organizing. And I think that is a core tenant that we have to bring up and uplift in the values of the EFOD Fund.
Q&A
Esperanza Pallana: It is a pleasure to be present with you all and definitely to get to take this in. I'm really processing everything that was shared today particularly in the context of having worked with a CDFI for a few years. I have to say what I really want to lift up are, I think what I mostly heard is who has decision making power matters. It matters perhaps more than is being given credence in the existing financial institutions. And it is beyond, just to reiterate, I think we have repeated this now, this will be the third time around. Particularly folks who come from communities most impacted by inequities coming into financial institutions and then being given roles that are like the the community lead or connection role, the pipeline development-type role, but not really being empowered with decision-making power or even leadership roles within the institution. Their own connection within community instead is being extracted. It is to give the advantage to the institution to make those connections. But something I think was not necessarily stated here, but I know is an outcome of that kind of behavior, which is just perpetuating systemic violence through our economic and financial systems on those very same communities so that they are actually traumatized by these well-meaning institutions that come in, say they're for community, but they're not operating that way. So both their staff and community are further traumatized. So again, who has decision making power really matters. And then I heard, I was going, looking at, all these wonderful questions and three kind of categories of questions really stood out to me. And that was the overall approach, regulatory requirements, and funding sources. So I have some questions. I want to take a moment to repeat what Mariela said about terms that support capital preservation and not projects being focused on frequently. And then what Camryn had said about, this was really important, I think who's being funded and who's being trusted is not working. It doesn't work. So we are really talking about a radical change. And one of the questions around that is, do you think existing financial institutions can make that change?
Mariela: Ooh, that is a hard question, Esperanza. I don't know is maybe my answer. I want to have like a better answer for you. I think what I'll say is that the hope for the EFOD Fund is to model for those institutions what it can actually look like. And my feeling, for me, kind of where my, after I, I'll share candidly with the group that I was part of like a subsect within the EFOD Steering Committee that was trying to work with institutions to talk about models, to talk about reallocations of money. And even the institutions that had really strong equity language that had spent lots of time on these frameworks, there was such a huge disconnect between their program team and kind of divisions and language that the program teams within institutions were using and their lending teams. I think Camryn shared this and we have to remind ourselves is that like our institutional CDFI system, investment system mission-aligned kind of sources were created in the same ecosystem that the banking institutions like standard private banking institutions were. I think that if this kind of programmatic context and these real values around equity find a way to be infused into their lending side, into the practices and like operationalize, then I see a path. I just haven't quite seen that path yet. And so to me there is a bigger opportunity in reallocation of those resources into collaborative spaces that already come with those values and that ethos.
Nicole: I would just add, Mariela, that that is a hundred percent yes. Also, I don't know if they can change without us influencing at the federal level. That is something that Inclusive Action has started to intentionally do. I sit on the inaugural Racial Equity Committee for the US Treasury. We have just started. What can we do at that table? What can we do together? So just to add that, I think it is going to take that as well.
Camryn: So I believe we can. Not those institutions that we currently have on this panel right now and the institutions we know that are actually accountable to our communities and our people. I'm at the point now where I don't trust those institutions that you're referring to, because they have been highly extractive on doing work on behalf of us and have been treated in such a way that I just, I don't want to come to the table anymore simply because of what Esperanza was saying concerning the trauma, just the dealing with, I don't, no. Cut out the intermediary. Go directly to CDFIs that are accountable to directly impacted communities that were created by them and trust them to do the work. That is where we need to be heading. We don't have time. We do not have a lot of time. My people have been impacted by every iteration through Emancipation, Reconstruction, Jim Crow, wait, just wait, just be patient. How? Be patient? We have lost so much. I know from my First Nation brothers and sisters when I hear specifically from my First Nation sisters, because oftentimes there's a solidarity that I feel with them because that is usually who's sitting at the bottom of the barrel in terms of the overall negative outcomes of all this data. It is us and Indigenous women, Black women and Indigenous women over and over and over again. We cannot wait. We need funds. We need technical assistance. We need people signing over pink slips and properties to return back to people that what they need. We need people to be who they say they are. We have nothing else to give. We need interest-free loans. We need even more reparative money grants. There is not, my organization has actually done business now with Esperanza's organization. We have been involved with Rudy and Nicole and Inclusive Action. I know Mariela, we have been involved, and EFOD too. I trust these organizations. I do not trust the white-led CDFIs. And there are more and more Black and Brown people basically talking the way that I'm talking, because we see what's happening to our people. We do not have time. They keep on telling us to wait. They keep on causing us to jump through hoops that we do not have the capacity to jump through. Neither is it really needed. We don't have time.
Esperanza: Thank you. Connected to that is thinking, there was a mention of some of the firewall that is put between programmatic staff and lending staff. I have also observed that in my career. And I was wondering what is, because part of that firewall is my understanding has to do with being protective to the investors and serving as gatekeepers to the investors. And so there's a lot of like passing the buck of who's responsible for the behavior of these financial institutions. And so I'm really curious what you think is the role and the power of investors to support EFOD's approach?
Mariela: I'll share a few things that are kind of in my head that hopefully will answer your question. One is, and, Camryn, you brought this up before, is that even before we get to investors, when we are talking about kind of the CDFI ecosystem, that maybe we are wrestling with the most, a lot of the funding that they get is tax dollars, it is grants. It is not even investment money, right? So I think that there's this part of that that even before we get to investors or kind of a space that is planning on putting in money to make a return is that we are just wrestling with the fact that these dollars that are our own money is being kept from us. And this is not in an investment space. This is just like in a grant space to Nicole's point. Around like policy and like much needed tax reform. And then I think there's another piece too that really sits with me and I think like you kind of got at this and some folks have asked about this, like how will the EFOD Fund sustain itself? Like we are not looking to sustain an institution. And in fact, I will share with somebody who sat on CDFI boards, and Esperanza, you have experience in this, very few CDFIs self-sustain actually. Most of them are very, very much dependent on grants. I'm talking about less than 20% if they're doing extremely well at their job. We have this kind of false narrative of these institutions self-sustaining through interest rates. Like it is just not true. Like we can just wash away that 20%. So I just want to like come out and answer that question is like, that is not our long-term goal. Our long-term goal is redistribution of resources. And so to get to that is like, I think about folks talking to me about the trillion dollars that are sitting in endowments in foundation endowments. Or the fact that I was just listening to, oh man, I'm blanking on his name. I think his name's Boulet talking about how for that money, like we taxpayers are subsidizing 74 cents on each dollar that is like donated by the wealthy. Like these are this is where we are starting. So just want to kind of bring it back to the fact that I'm talking about our money, I'm talking about our tax money, like our grant dollars money that was built on us. And then I think on the investor side, I wanted to uplift a really interesting conversation that Trisha and I were really like recently on with an impact investor like interested in the EFOD Fund. And we had this conversation, we'll see where this goes, but we had this conversation of, okay, like what is it that you need? And we said 0% money, We want 0% money in, we want 0% money out. And he was like, "Oh, okay." So he didn't respond poorly, but was like, "Ah," and we had this conversation around like what that interest rate actually meant to him as an investor. Like what does $100,000 in interest mean to you when you're very, very wealthy? Probably not a lot actually. What does $100,000 mean to a project, right? To being able to provide fair wages, invest on infrastructure to get to wherever you're trying to go faster. Invest in organizing like there's also just like kind of a human conversation to have around people with a lot of wealth around what does the benefit of more wealth mean to you and what does the benefit of more wealth mean to disinvested communities? When I try to humanize, and I don't mean this for like a mass statement for all investors, because some investors are just never going to, this is never going to resonate with them. I mean that with folks that might be interested in coming into this framework from an equity perspective and who are thinking themselves of how they can contribute to it. I think the last thing I would say as well for that, I just like, it is a kind of a reality check around where we can keep making money. We can't keep making money from food. We can't keep making money from working class communities. Like neither of those spaces can have any more space for extraction. I think like when we think about investments in other spaces, we need to think about this community-centered, community-rooted approach very differently than when we think about investment in kind of a traditional ecosystem.
Esperanza: I think you sort of answered this, but I was wondering if that your thought approach affects the funding streams you're able to accept or the types of capital that you're willing to accept?
Mariela: I mean, not to monopolize the space, but I think we have had, we have had an easier time kind of resonating with maybe family offices or smaller foundations that have a closer connection to the folks in power and also a closer connection to the kind of work that we are doing. Over the last few years have had I think a longer road with institutional foundations around what it really means to give up power and who makes decisions around allocating funding. And then now we are entering into this, and to say like it is moving, sometimes it is like one step forward, two steps back, but it is moving, right? That is how the EFOD Collaborative has been able to resource and how the fund has been able to stand up has been through those two sources. We are now kind of stepping into the investment space and testing to see if that works for us. We have put on the table, because we know that the money out is, especially in debt, is so affected by the money in, we just come to the table saying, "You know, it is 0%." That means that 99% of people are not interested in what we are building, but there is a 1% that we are starting to make some headway and like have some traction with. And so again, and I think that is under the ethos of if we can't make the EFOD Fund work for us, then we shouldn't be doing it at all. The money coming in is really important to us, because it dictates our capacity to really build power in the money going out.
Esperanza: Great. Thank you. There were many great questions that were also very technical, and I'm trying to kind of touch on broader answers to address some of those without getting too deep in the weeds. The folks attending are very curious about what they can do today. What can they do today? Where do they, they're in a financial institution, want to go back to their institution, they want to do something today. So they're looking at all of these different pathways where interventions are possible. And so I just want to create a space where folks can talk about what are the highest, what are some of the best and greatest impact changes that folks go back and start negotiating today?
Nicole: Especially for those that are sitting within traditional financial institutions, we are very desperate for a new set of practices. We need to sort of usher in new types of underwriting practices, new types of technical assistance and so on. And so if you are within a financial institution, and you're feeling like maybe your underwriting for instance is headed in a direction where you're locking people out, this is where it gets into sort of power dynamics and saying, "Hey, what if a CDFI is already practicing the things we need to learn, right?" Is doing a different type of underwriting. At Inclusive Action we are constantly saying, "Come, come embed in our offices. Come embed with our teams. Come sit alongside us," and see why when you are sort of looking at risk, it might be perceived. It might not be actual. Because if you're able to embed and shadow and see how we work in community and how we underwrite, you're going to learn new underwriting practices, and we are going to be able to change them together.
Trisha: I'll just add, I think one thing that we have definitely seen from the collaborative part is reaching out to community-based organizations or even coalitions of CBOs to ask for advising or guidance or community connections without resourcing those organizations or those coalitions or those people. And I think to your point, Esperanza, like it is perpetuating this gatekeeping mentality or ethos that kind of exists at many of these financial institutions that the only way they'll reach out to community-based organizations or leaders in their communities is to extract information. And I think we have seen that plenty of times within the collaborative, but what I would encourage anybody here on this call who's in that position to reach out to any of those organizations. Make sure that if you are reaching out to people, you're compensating them for their time. If you have an advisory board, they have actual decision making power that you have and you're constantly asking and reflecting with borrowers about how the process can be made better. That is something that Mariela spoke to as a huge tenet of what we are trying to do with the EFOD Fund is make sure that it is constantly reflective of what these organizations need. So there are a lot of ways of embedding the knowledge and the expertise and the wisdom of community-based leaders into these processes.
Mariela: I think one more thing I would add too is that maybe from a technical side, especially with grant money, like money that is really flexible, is to stop kind of putting it into your general portfolio of funds and constraining it with the same constraints that investing, that funds that might have come through investment come in. And encourage folks to either experiment and like really push themselves. Or if it is work that you can't do, put it in spaces that can do it. I think this is a conversation we have tried to have with some of these institutions is like, if part of your work is to get x dollars into communities of color that is very place-based, that might not be work that you can do. There are folks who are doing that work. There's folks who are doing that in the Northeast, there's folks who are doing that nationally. There's folks who are doing that in Southwest. And so part of I think my call to action is like, beyond the things that you all have shared, which I think are important and steps towards it, is that part of the ultimate step might be to just place those funds with other folks who can actually do it. So that is kind of my third piece is that if you're doing work somewhere, there's somebody else who probably can reach the communities in a different way that you might not be able to reach.
Esperanza: I want to encapsulate what I've heard, some of the things, I just want to lift up a few points that I've heard in your responses, which is many lending nonprofits are heavily subsidized with 0% capital, so investors are not the barrier. Decision making power structures need to change. If you don't know what it means to be traumatized by institutional practices, particularly lending or philanthropic institutions, go learn now what that means. And then follow the examples of community-controlled capital that are out there where decision making power has been truly ceded. Not advisory groups where people provide feedback and review some suggestions and then it goes to an actual investment committee or a board to make the final decision making power, but to actually cede that power over.