Our vision for The Leading Voices in Food podcast series is to offer wide-ranging perspectives and knowledge from researchers, community leaders, policymakers, farmers and more.  We want to introduce new ideas and people, shift your thinking in topics you know well, and contribute to movement towards equity and resilience in the food system. Transcripts for each interview are also posted.
We feature topics across the food system spectrum such as food insecurity, obesity, agriculture, food access and equity, food safety, food defense, and food policy issues. The series is hosted by Dr. Kelly Brownell, emeritus director of the World Food Policy Center, and professor of public policy and psychology at Duke University. Guest hosts Sarah Zoubek and Jennifer Zuckerman also contribute to the series.
To suggest a guest or research we should feature, please email Deborah Hill at dahill@duke.edu.
Subscribe: Apple Podcasts | Google Podcasts | Soundcloud | RadioPublic | TuneIn | Stitcher | PocketCasts
No one actually wants to waste food, right? And yet, a new national study on food waste at home shows we've become more wasteful recently. US families self-reported a 280% increase in discarded food between early 2021 and early 2022. What's more, households tossed out more food during weeks they ate out. Today, we will explore results from a national tracking study published in the Journal of the Agricultural and Applied Economics Association. Our guests to help us learn more about this topic are economist Kathryn Bender. Katherine studies consumer behavior and food waste at the University of Delaware. We also have Brian Roe, who is an agricultural economist from the Ohio State University. Brian's research focuses on food waste and consumer economics.
Today we speak with an expert on sugar and things meant to replace it. The stakes are high. Very high. Sugar consumption in the population is astronomical and so is the use of sugar replacements. Knowing the impacts of both could help experts provide dietary guidance and help consumers make decisions. Dr. Robert Lustig is Professor Emeritus of Pediatrics in the Division of Endocrinology at the University of California, San Francisco. He specializes on the regulation of energy balance by the central nervous system; body weight regulation, appetite, metabolism, and is very well known for his work on sugar and their substitutes and on policies aimed at improving the diet of the population. A YouTube video on the effects of consuming sugar called "Sugar: The Bitter Truth," has now been viewed 24 million times.
As a society, we are eating and drinking low-calorie sweeteners more and more. Researchers are working to understand the long-term impact of such sweeteners for adults and, of course, for children. This interview is part of a series on the impact of sweeteners. Our guest today is Dr. Allison Sylvetsky, Associate Professor in the Department of Exercise and Nutrition Sciences at the George Washington University – Milken Institute School of Public Health.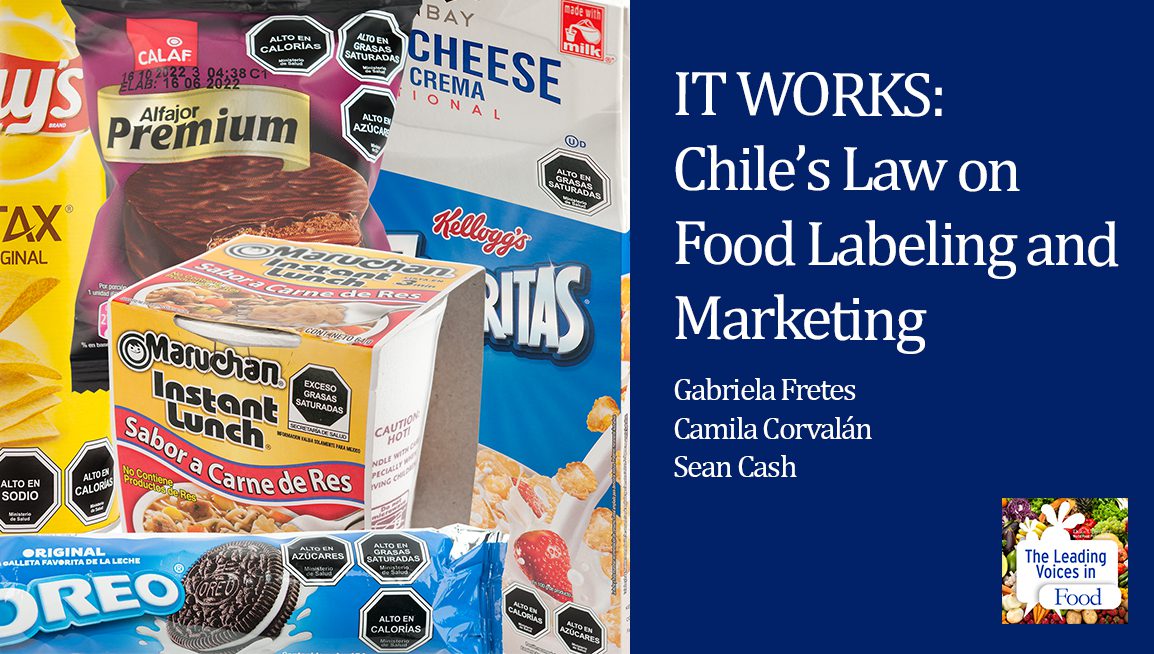 In 2016, the Chilean government implemented a comprehensive set of obesity prevention policies aimed at improving the food environment for children. Results from a multi-year study of that regulation, published in the International Journal of Behavioral Nutrition and Physical Activity, can now tell us if Chilean children are better off as a result of the policy. Guests on this podcast include: Dr. Gabriela "Gabi" Fretes. She is an Associate Research Fellow at the International Food Policy Research Institute. Dr. Camila Corvalan is the Director of the Center for Research in Food Environments and the Prevention of Chronic Diseases Associated with Nutrition at the University of Chile. And, Dr. Sean Cash is an economist, Associate Professor of Agriculture, Food, and the Environment, and the Bergstrom Foundation Professor in Global Nutrition at Tufts University