Our goal is to be a resource to a wide range of audiences impacted by and intersecting with food systems and food policy. In this section of our site, you will find reports, articles, info graphics, and commentary--both from our center and the many other institutions and organizations working in food policy. Sharing insight is a core ethos of our center because we believe that only by working together can we achieve an equitable and sustainable global food systems that advanced human health while protecting the planet.
This paper is a think-piece on the role of the Committee on World Food Security (CFS) in supporting outcomes associated with the Food Systems Summit…
This study is a detailed and nuanced story about COVID-19's impact on food insecurity in the U.S. through the experiences of private, charitable non-profit organizations.…
This report presents a multi-year case study of Communities in Partnership (CIP), a predominantly Black women-led, Black women founded, community-accountable organization that addresses social determinants…
Recent Papers & Commentary
Recent Explainers & Infographics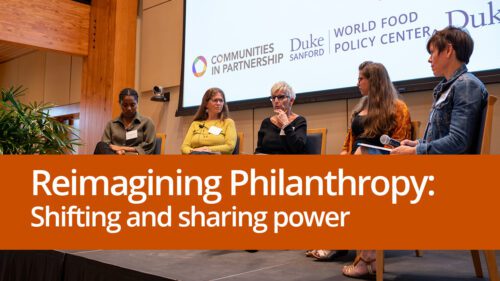 In this discussion, speakers describe how current philanthropic community engagement strategies fail to achieve the desired impact, and why. Panelists provide specific examples, both positive…
In his keynote address, Dr. Henry McKoy discusses the need to give communities autonomous power to address their own needs. He documents the racial wealth…
This panel discussion looks at how research institutions interact with communities before, during and after conducting research. The goal of the discussion was to: 1)…
Rooted in Relationship: Power & Privilege in Food Systems Conference
This webinar was recorded on Wednesday, August 25, 2021. The webinar focused on how white dominant cultural narratives play out in food insecurity and food access in the United States? The webinar framed ways in which whiteness impacts the food system, based in an historical context of structural racism. We also presented examples of how whiteness fuels power, decision-making, and investment in food systems.
Examining Whiteness in Food Systems Webinar
This event explored how we can move from charitable interventions to a justice-based approach to food systems reform and community development. The Rooted in Relationship event focused on how to shift power and work in support of (not on behalf of) community-rooted organizations working on the health and economic viability of historically marginalized communities. This conference was held on April 21, 2022 at Duke University.